Bunny-
Breed: Percheron
Height: 18 hands
Color: White
Bunny is a big-hearted, sweet, ocean-loving, friendly horse. 
She is 19 years old!  She is the newest roommate at Horse Island
Camp barn and she is very excited to be here with us.  She used
to give Boston carriage rides for years.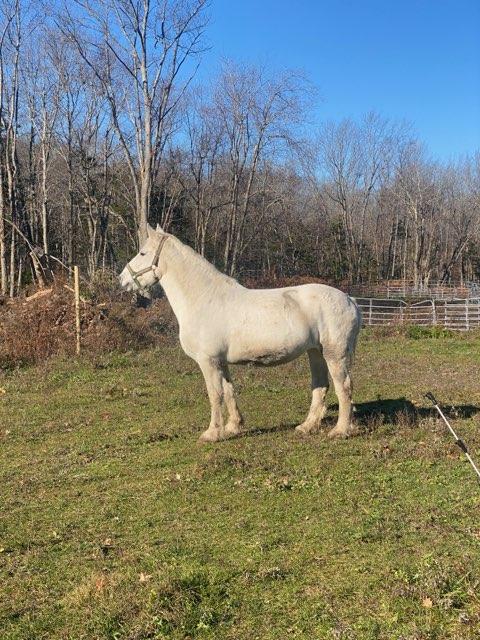 ---
Duke –
Breed: Percheron
Height: 18 hands
Color: Black with 1 White sock
Duke is one of Jeanie's favorites.  He is a gentle giant and loves attention, he'll stand for someone to brush him all day. He especially enjoys rides on the beach and rolling in big grassy fields!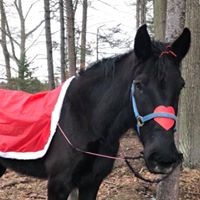 Boo Boo Bear-
aka Bear
Breed: Belgian
Height: 18.2 hands
Color: Sorrel with White socks and a White star
Boo Bear is our tallest horse, but don't let his size scare you! He could be your best friend with the small price of some snacks! Boo Bear is from Canada, off a working farm and can be ridden or driven. He loves to explore the trails and the beach, just looking for an open place to get some energy out.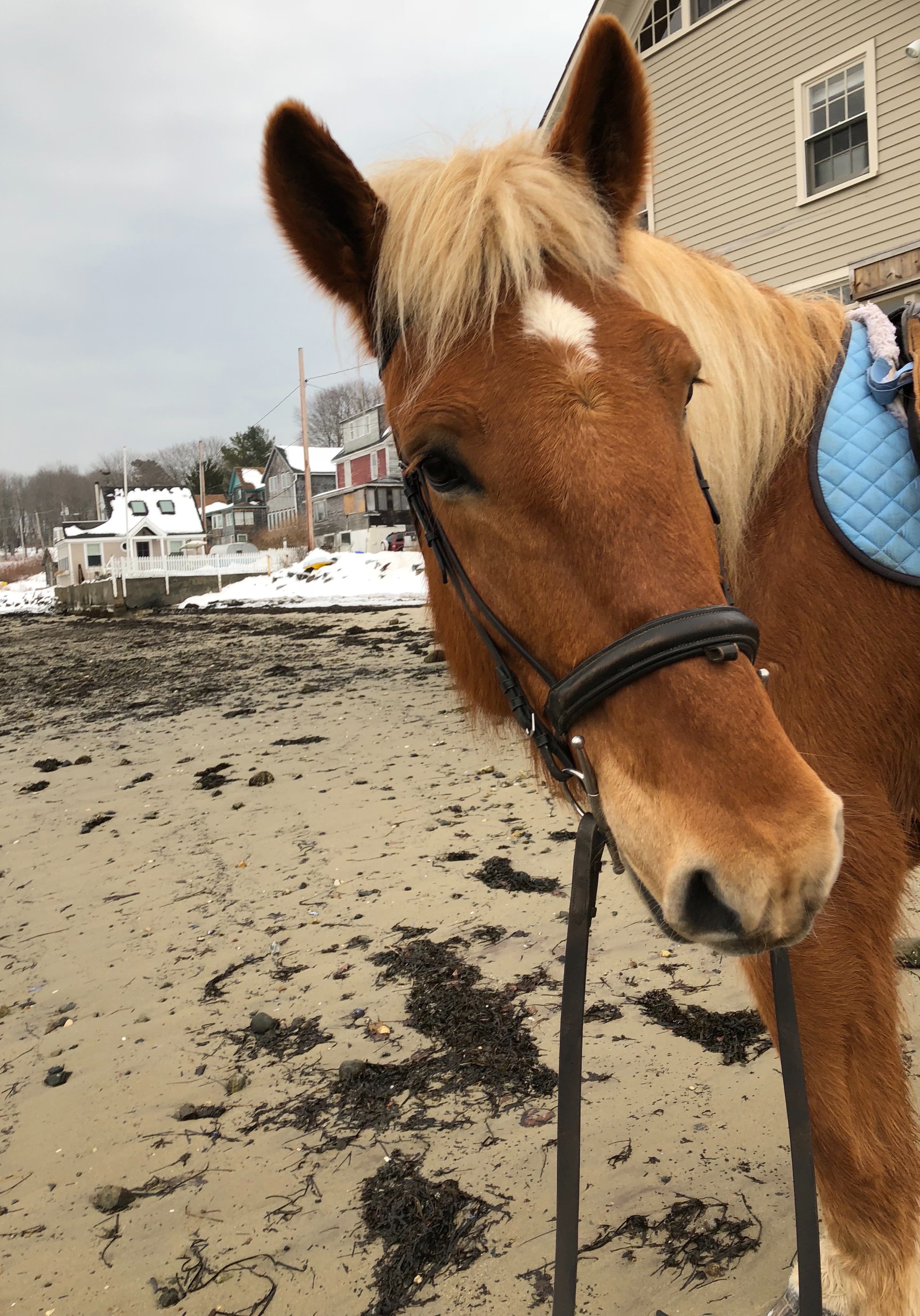 Tuxedo-
aka Tux
Breed: Gypsy Vanner
Height: 15 hands
Color: black and white
Tux is a Gypsy Vanner Horse, he is a very good horse. We are so lucky to have him! He came to us because at his old home bear-baiting was popular in the area and he was not very safe there. He lived with some sheep and a donkey, now he lives with horses and a donkey! He loves the ocean and to be groomed!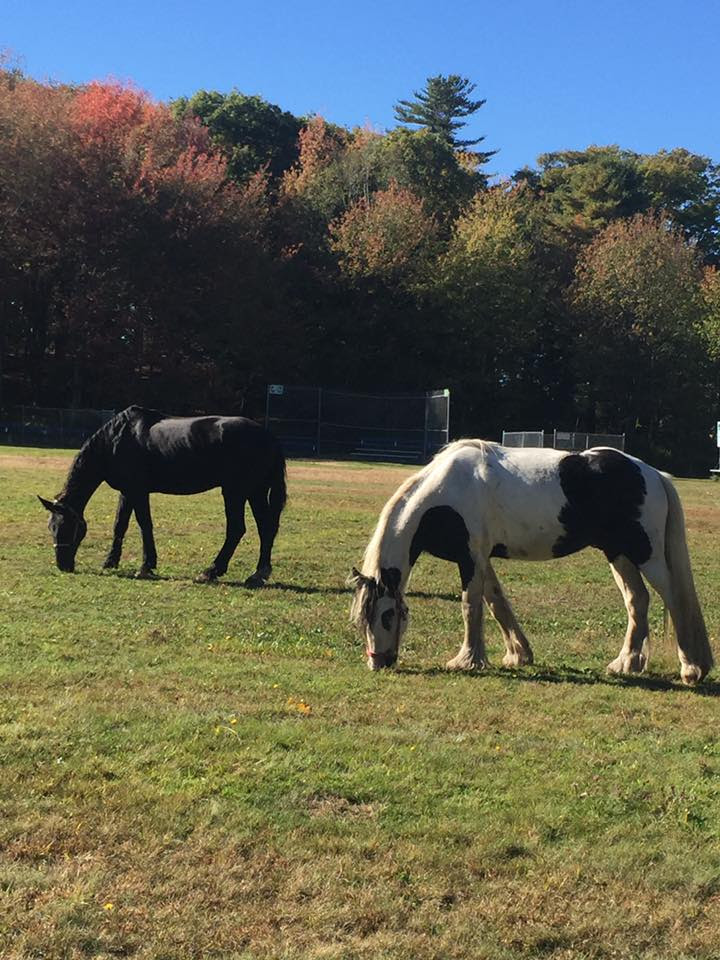 Jerome-
Breed: Donkey
Height: 12.2 hands
Color: brown with some white
Jerome came to us from Perry, Maine because no one wanted him. We did not know he was as young as he is until we realized he likes to nurse on people's nearby fingers. He still has not broken this habit, that is why he is our big baby! He is named after Jeanie's four brothers.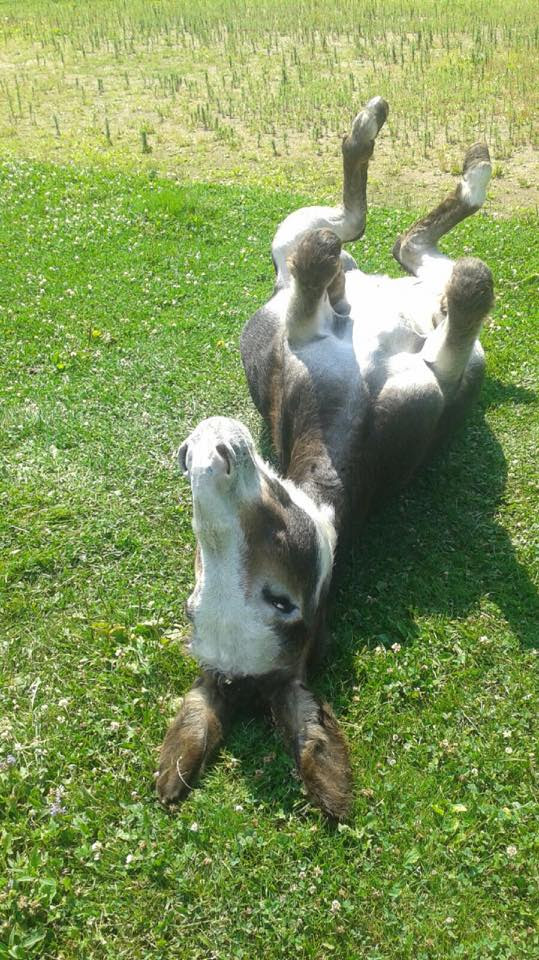 Babe's Black Dawn-
aka Dawn
Breed: Percheron
Height: 17 hands
Color: Black with a white star
Dawn is a stunning horse, she loves to pose for pictures! She gets along with any horse as long as they are okay with giving up their food for her. She is still working on her bikini body for summer as her main source of food is alfalfa and hay, but the temptations always get the best of her when it comes to snacks and grain. She is still a great escape artist along with her friends!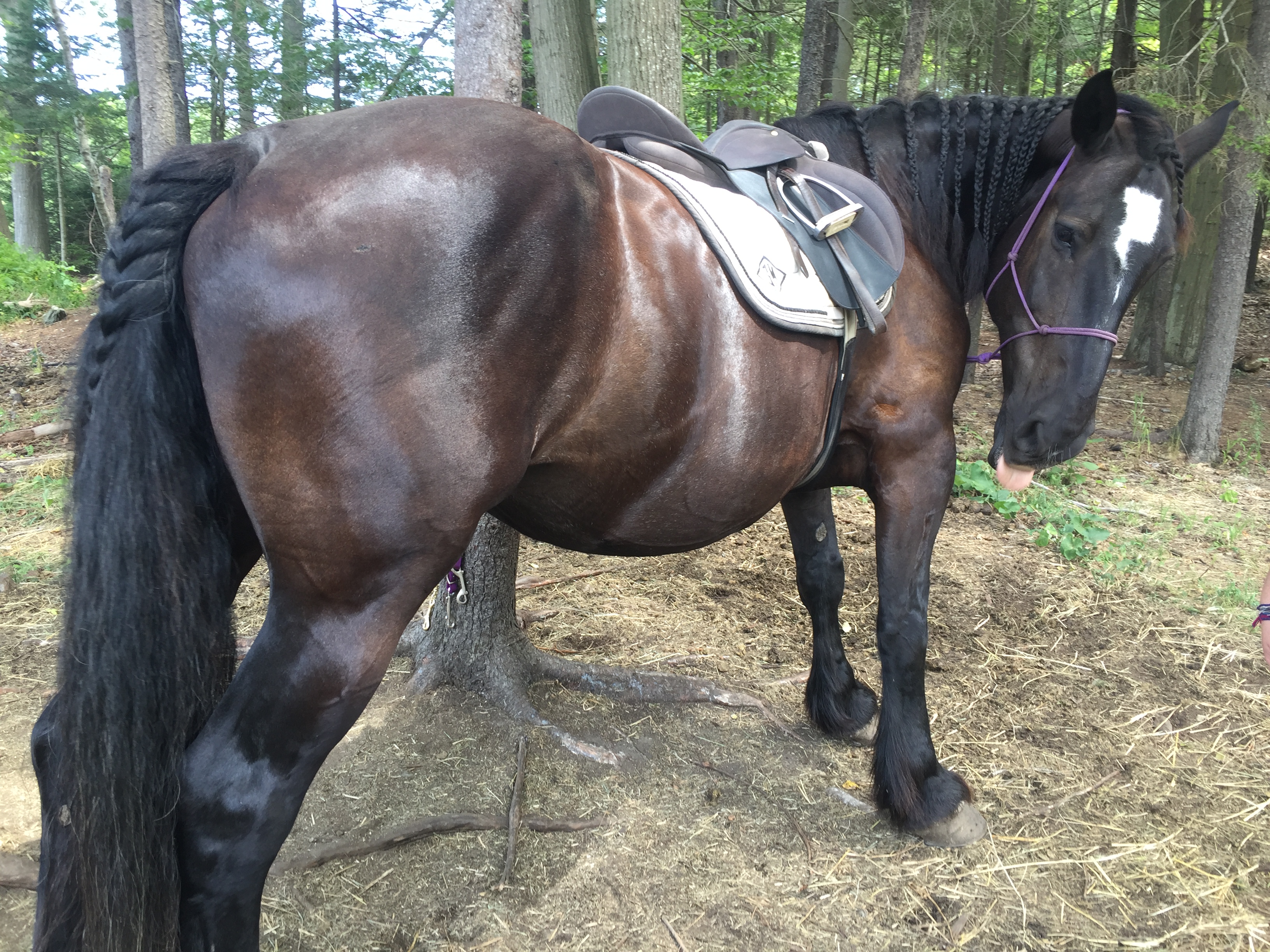 Little Joe-
aka Joey
Breed: Tobiano Paint
Height: 15 hands
Color: Black and White
Little Joe was born in Iowa, his name is registered as Pals Rhyme n' Reason. He is known to be an escape artist, although he is like a dog and comes when you call him (or have snacks to share!) He loves going in the ocean the most!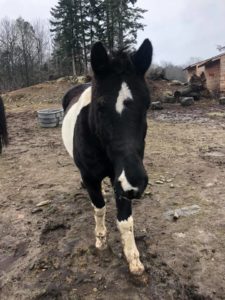 Mr. Charles Dumpling-
aka Dumpling
Breed: Miniature Horse
Height: 4.2 hands
Color: White
Dumpling was a stallion when we met him, he kept crossing a busy route in Saco to try and mate with the large horses. He would show up wet and covered in burrs, no one knew where he came from. He used to get into fights with the bigger horses, and then hurt his knee once. His name was JoJo but when we got him we knew he deserved a more important sounding name. Dumpling sees himself as huge and powerful so we do not tell him otherwise. He looks like a mountain goat in the winter with his shaggy coat. His favorite thing to do is steal campers lunches, so beware!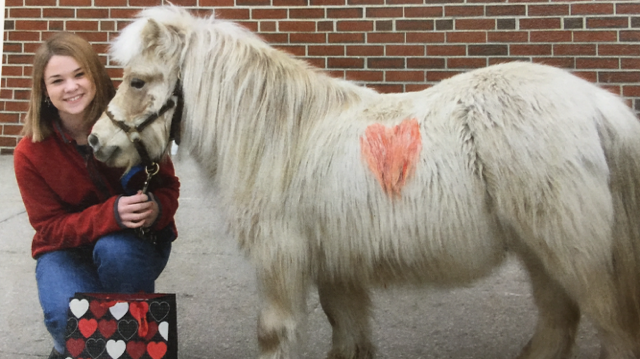 Miss Chicklet-
aka Chicklet or Chicky
Breed: Miniature Paint
Height: 4.2 hands
Color: Brown and White
Chicklet came to us from an auction, she came with our never forgotten Belgian horse, Yogi. She enjoys flirting with Dumpling and Mercury. Chicklet loves eating snacks and loves putting on mini-shows at camp!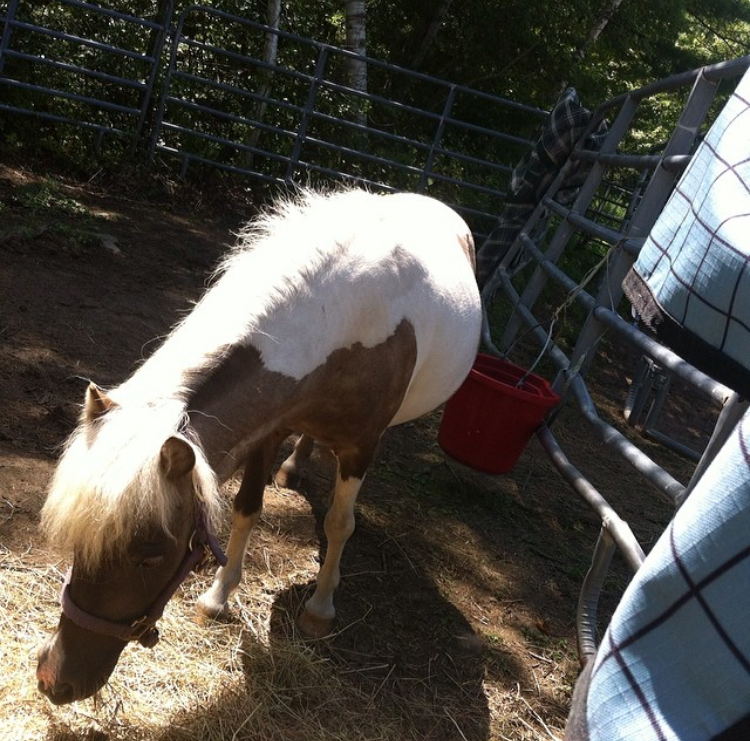 Buster Baxter-
aka Buster
Breed: Standardbred
Height: 15.2 hands
Color: Bay
Buster was extensively trained to become a sulky racehorse but when it came to actually run, he did not want to. We got him and he is perfectly content walking around the island. Amazingly, the perfectly bred horse for racing is the best horse for anyone to ride!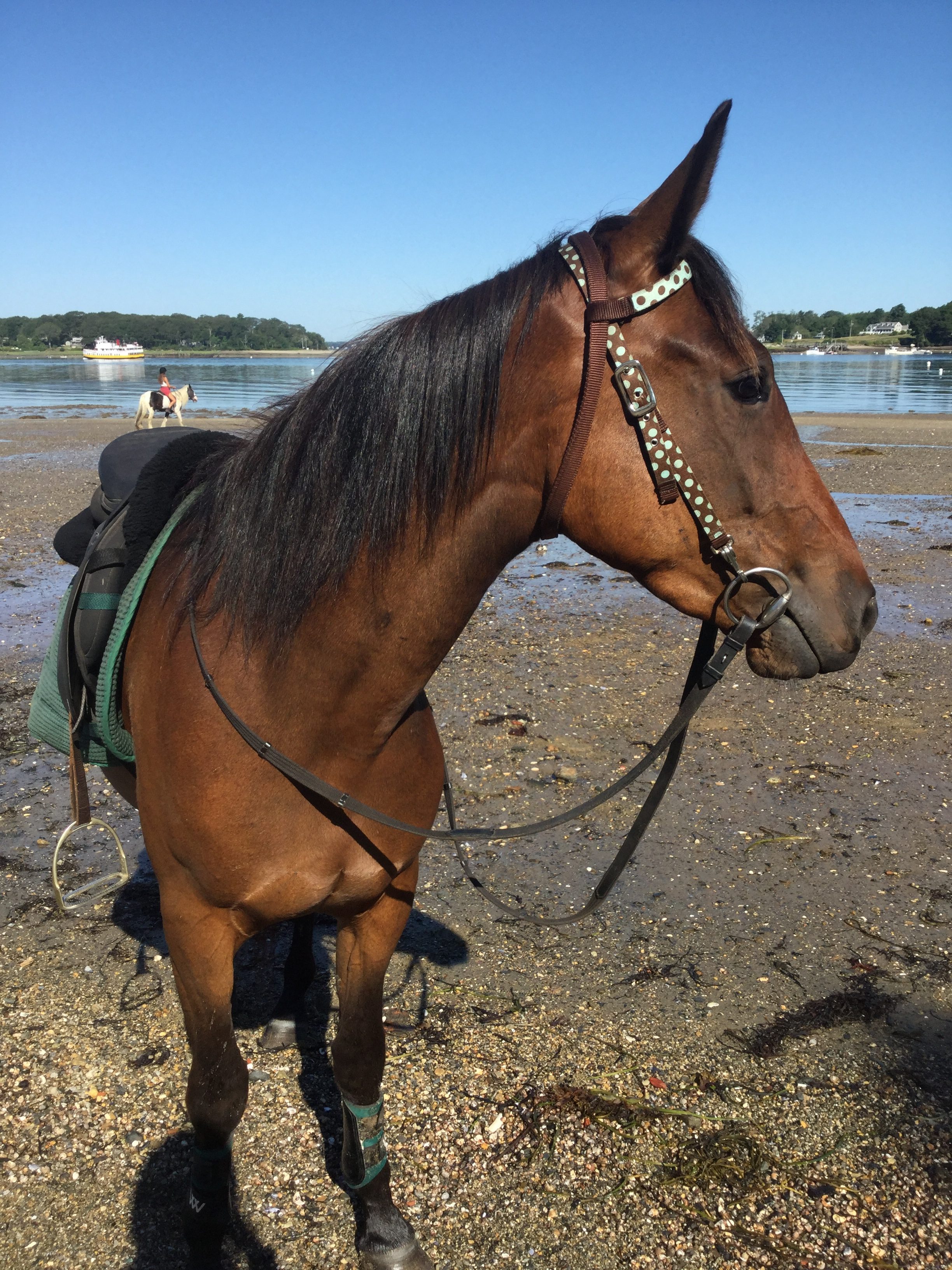 Happy-
Breed: Appaloosa Miniature Horse
Height: 5 hands
Color: white with brown specks
Happy is a fun and energetic mini, he loves to be groomed and loves to put on shows for the campers with the other minis! He loves snacks and loves to spend time with his friends.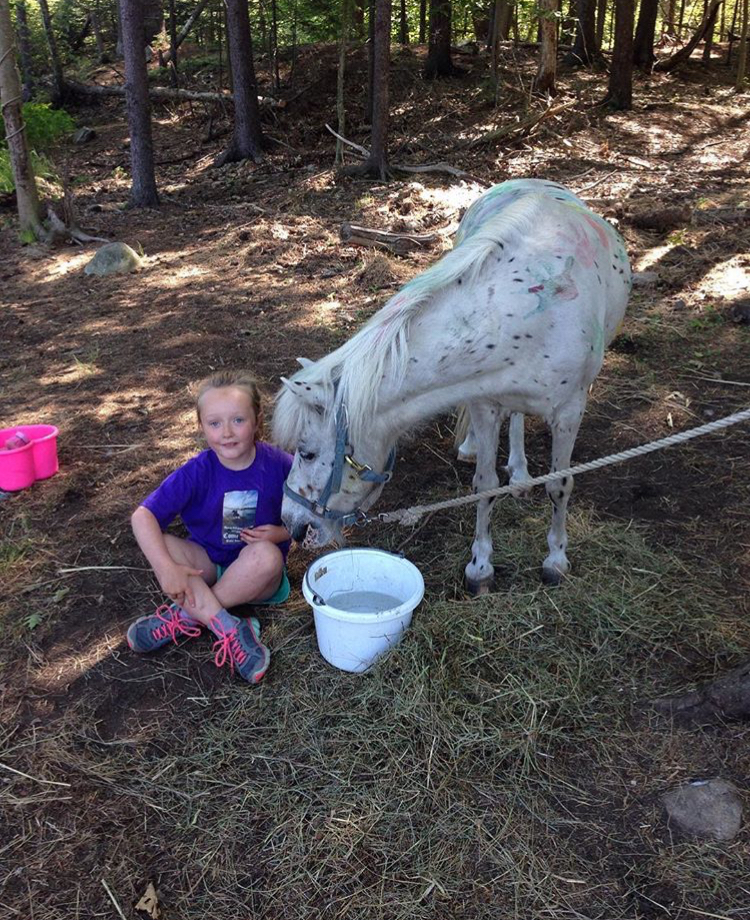 Big Sham~
aka Sham
Breed: Standardbred
Height: 16 hands
Color: Grey
Sham is our newest ex-racehorse and has a huge personality! He loves the beach and going swimming with his human and horse friends, he's so brave and went in the water on his second beach ride ever!